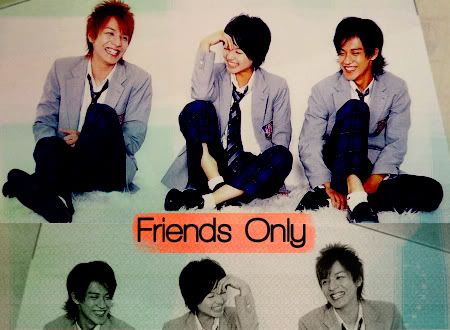 And so I decided to change my FO banner to none other than the popular drama 花ざかりの君たちへ~イケメン♂パラダイス~
This banner is made by
maxiechan featuring 中津秀一, 芦屋瑞希&佐野泉.

Indeed, nothing beats having best friends around, but just for this special case I must declare that I'm a...
中津X瑞希ファン!
NxM fan or not, as long as I know you and you know me and I haven't have you on my flist yet, comment or bug me on MSN to add you!

hady can u understand this alien love? 8D
Current Mood:

sleepy

Current Music:

You Give Me Wings - Hady Mirza
Current Music:

w-inds - ブギウギ66
Current Mood:

working
ahh the rest of the box is love~ 8D And L's real name fuUUuUuu~ the name card is sooo pretty!!! 8D but I love these finger puppets the MOST!!!
Current Mood:

Finger YOU
My LiveJournal Trick-or-Treat Haul
dani3lr goes trick-or-treating, dressed up in mother's wayang clothes.
junsumide tricks you! You get a dead frog.
lante gives you 3 pink banana-flavoured pieces of bubblegum.
mhysoka gives you 12 milky white grapefruit-flavoured gummy worms.
missliddell gives you 14 light green passionfruit-flavoured jawbreakers.
mizuwizu tricks you! You lose 14 pieces of candy!
mozaemonpico gives you 2 yellow licorice-flavoured pieces of bubblegum.
natureisawhore_ tricks you! You lose 10 pieces of candy!
nigatsu9 tricks you! You lose 1 pieces of candy!
onimushah gives you 19 pink chocolate-flavoured wafers.
osaka_kun tricks you! You lose 23 pieces of candy!
mhysoka trades a rock for dani3lr's dead frog.
dani3lr ends up with 2 pieces of candy, and a rock.
Another fun meme brought to you by rfreebern.
haha
osaka_kun
*grrrrrrrr*
nigatsu9
not as jia lat as you! I'll gladly give her all my candies!! >D
Current Mood:

GEYLANG SERAI!

Current Music:

Shinjitsu no Hana - Nightmare
I saw
tennis_chan
at Kinokuniya; waited at Douby Ghaut and bumped into
mhysoka
,
tessie
,
shiomi
and
scha
; went to City Hall to meet up with
Elmo,
roy_mustang04
,
kie
,
cellardoorsky
and
Naz
;
cellardoorsky
saw her LoTR friend who's a cosplayer too; walked to Suntec for dinner and was told that there's a mini cosplay event there.
den saw the bunch of naruto cos-ers and that MEGA IDIOT who initated the whole VK shit shoot. So before we left for another place, I walked back n forth where they stood and
PUI PUI PUI
many times at them. *grrrrrr*
went to meet up wif
silentnitz
,
keesiao
n
ah beng
to give dat fella a bdae surprise; before that saw
marik
and
kyoist
walking together at citylink.
So what day is it today again? 7th October. Sore dake da.
Guzen janai wa yo~ HITSUZEN DESU
. >D >D >D
Current Mood:

bambooze~

Current Music:

ALUMINA - Nightmare
Why is it that, as a culture, we are more comfortable seeing two men holding guns than holding hands?"
-- Ernest Gaines

We would like to know who really believes in gay rights on Livejournal. There is no bribe of a miracle or anything like that.

If you truly believe in gay rights, then repost this and title the post as "Gay Rights".

If you don't believe in gay rights, then just ignore this.